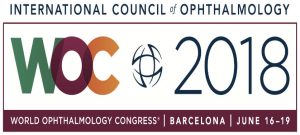 We're privileged to be presenting several papers and e-posters at the World Ophthalmology Congress 2018 in Barcelona, Spain
Find Out More
No referral needed
We accept almost all insurance including:
VSP • Eyemed • Comp Benefits • Vision Care Direct • 20/20 Advantage • Blue Cross/ Blue Shield of Illinois • Medicare • Cigna • Aetna • United Healthcare • PHCS • Personal Care/ Coventry
IPA Medical Cards Accepted
Don't See Your Insurance?
Just ask ... we probably do!
About Dr. S. Sayegh
Dr. Sayegh is particularly interested in providing a friendly and relaxed atmosphere where patients have easy and immediate access to an environment with the highest quality of eye care.
Dr. Sayegh, a Board Certified Ophthalmologist, received his medical and surgical training at the University of Michigan Medical School and surgical specialty training at Barnes Hospital and Washington University School of Medicine in St Louis. These institutions have consistently been ranked amongst the top medical institutions in the country. Dr. Sayegh graduated cum laude and received the prestigious National EYE Institute ARVO award in a competition involving over 600 applicants. He was also a fellow at the National Science Foundation Center for Ultrafast Optical Sciences where he lead a team developing applications of ultrafast lasers to eye surgery and leading to one of today's most sophisticated laser eye surgery systems. Dr. Sayegh also completed both medical and surgical retina fellowships, also in St Louis.
Dr. Sayegh practices comprehensive ophthalmology, cataract, refractive and retinal surgery and prides himself in taking care of all the needs of his patients from eye glasses to eye surgery. He specializes in no-stitch, no-shot, no-patch cataract microsurgery, laser vision correction and retinal disease and surgery. He is on the active staff of Provena Covenant Medical Center in Urbana, as well as other hospitals throughout Illinois.
In addition to his clinical and surgical work, Dr. Sayegh has been actively involved in teaching and research as a tenured professor and scientist. He played a leading role and continues to investigate developments of the femtosecond laser applications to eye surgery. His team was represented at the Council on Competitiveness where the 20 most innovative projects in the nation were presented at MIT at a conference presided over by the vice-president of the United States. Dr. Sayegh has also done some of the leading work on the choice of intraocular lenses for cataract surgery following refractive surgery. His current research involves new methods of treatment of macular degeneration. He frequently presents his work at national and international meetings and has published over one hundred peer reviewed papers. He has several active projects related to eye care and eye surgery in collaboration with other professors at the University of Illinois in Champaign-Urbana. Dr. Sayegh takes pride in his multiple achievements, but most importantly in the daily care he brings to his patients.